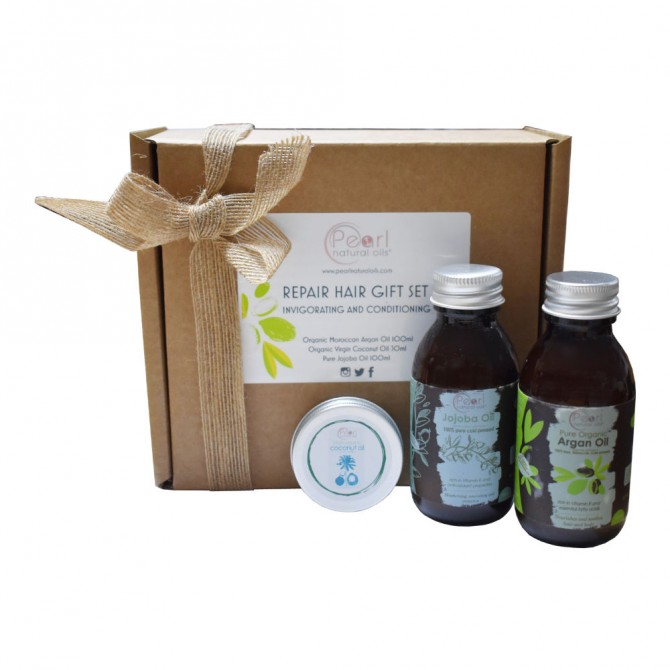 Repair Hair Gift Set
RHGS
Availability: In Stock
Not tested on animals
No GMO
No Nasty Chemicals
Repair Hair Gift Set
Invigorate and condition those dry, tired locks. Indulge in our 3 favourite oils to replenish your hair & scalp, boost back that shine!
100ml Organic Moroccan Argan Oil
Finest Organic Argan Oil,100% pure, cold pressed, natural and direct from Morocco where it is farmed, sustainably sourced and harvested by the local villagers. Pearl Natural Oils has close links with Morocco where the Organic Argan oil is preserved in its purest form.
Argan Oil is rich in beneficial nutrients including fatty acids and vitamin E, making it the ideal hair conditioner. It can even help to treat split ends and tame mad hair days! The high Vitamin E and Fatty Acid content help to strengthen and fortify your hair.
Applying Argan oil to your hair:
To add that extra shine and gloss apply a pea size amount to the ends of dry hair and to any fly-aways. This will help your hair feel and look super shiny!
For an intense moisture boost to your scalp and hair, apply a generous amount before shampooing. Leave it in for 20 minutes and comb through whilst massaging into the scalp at the same time. Once your hair and scalp have absorbed the oil washout with your favourite shampoo.
100ml Golden Cold Pressed Jojoba Oil
Our 100% pure, Unrefined, Cold Pressed Golden Jojoba Oil is rich in essential fatty acids, Oleic, Erucic and Eicosenoic Acid. It is high in Vitamin E, providing anti-oxidant properties which can be beneficial for anti-aging and hair.
Jojoba oil is a great versatile oil for hair and scalp. Its properties are very similar to our natural sebum, which is the oil produced from our scalp. Jojoba Oil can help to reduce dandruff and dry itchy scalps by equalling out the natural oils and balancing the sebum production.
Applying Jojoba oil to your hair:
Apply a small amount to hands and massage into scalp, leave for 30 minutes then wash out with a gentle shampoo.
For intense moisture, apply a few drops to wet hair and then blow dry whilst adding more shine and a smooth feel to your hair.
30ml Organic Virgin Coconut Oil
Our finest 100% Pure, RAW Virgin Organic Coconut oil comes direct from the Philippines. It is rich in essential fatty acids, Vitamin E and has intensive moisturising benefits for both skin and hair. It is completely biodegradable, pure, natural and has not been bleached, hydrogenated or deodorised. 
Applying Coconut oil to your hair:
Coconut oil is great to use as a hair mask once a week, especially when your hair is really feeling dry and brittle and needs some TLC. Smother your hair and scalp with Organic Coconut Oil, leave it in for 20 minutes and then wash out with a gentle shampoo.